Conquering Injuries
Kincade Pavich // July 5, 2018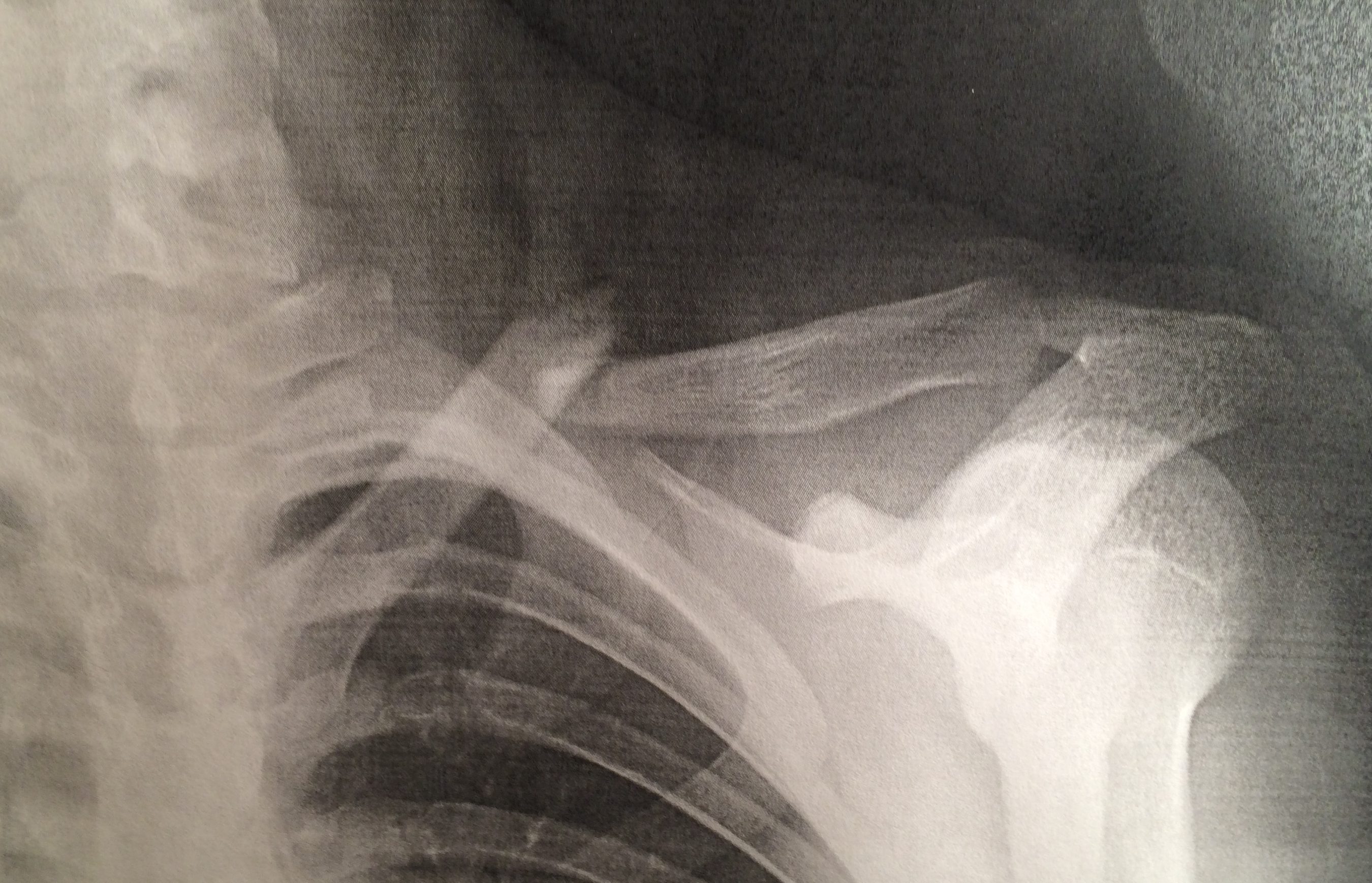 Kincade Pavich Broken Left Collarbone, November 2015
Almost every action sports athlete is injured from time to time. Most injuries keep athletes away from their respective sports for weeks or months before they go back for more. Action sports are like a drug, and everyone always seems to go back. There are few feelings in this world comparable to pushing your limits in any action sport. Learning new tricks, especially once you're performing at a high level, is so fulfilling. I remember landing my first double on a snowboard… I was grinning from ear to ear for days. There's nothing like it.
I also remember breaking my collarbone and being out for six weeks. I remember tearing my labrum and being out for 6 months. I remember concussing myself and being scared for years. The thing about injuries is that they are what you make of them. When you're injured and out, you'll never appreciate your health more. We take our health for granted while we have it, but once you're unable to perform basic functions for weeks or months at a time, you will certainly be ready to have your health back. The wonderful thing about injuries is most of them are forgotten quickly. The time of injury seems to drag on forever, but when it's over it's out of mind so quickly. My 5 months of heavy PT and misery during the deepest winter in years seemed like it would never end, and now feels like a distant memory. Do what's necessary to take care of rehab while you're injured so that you can forget about it once you're healed.
So far the discussion has been all physical, but what about the mental part of coming back from injury? I spent a year away from snowboarding after my shoulder surgery. I expected myself to be back to the rider I was a year prior within weeks. I had never let anything hold me back, so I couldn't see why that would change. It took me most of the season to really get back. A year out put a little voice in the back of my head that was so much more difficult to overcome than I could have expected. I had always had the Send It Mentality, and this was my first time struggling with it. What that season made me realize is that injuries can change the way you look at things, but that's not the worst thing in the world. I always thought it was. It all depends what your goals are.
For years, I wanted to become a professional snowboarder. I still do. But for years I was pursuing it. After last winter season and a lot of thinking, I came to the realization and decision that it's not going to happen. This is due to many factors – age, money, skill, etc. I also think about people like Ken Roczen, who had one of the most brutal crashes I've seen in ages, and was back racing one year later. Everyone thought his career was over, but he knew what he wanted and went for it. I look at Bruce Cook, who became a paraplegic after attempting the first ever freestyle motocross double frontflip. Shortly after, he was backflipping his dirtbike with a seatbelt on. Again, it all depends what your goals are and how hard you're willing to work. Injuries can change things, but that doesn't mean they have to ruin things.
I am directing my focus and talents to creating a network of action sports tutorials to tie an amazing community together. Ken Roczen is working his way back to the top of the podium. Bruce Cook has embraced life in the most positive way and inspires people every day, all the while ripping his dirtbike without the use of his legs. The human body is fragile and powerful at the same time. While preparation, commitment, and strength can help avoid injuries, they tend to be a part of action sports. Stay positive through the lows and keep pushing. Whether your goals change or not, injuries are part of the game. Most of the best athletes are capable of handling injuries better than anyone else. No matter how long it takes to get back to where you want to be after an injury, don't give up. The life of an action sports athlete is too great.